MUSICAL EYE is a revolutionary App for iPhone and iPad where, with the wink of an eye, you can play the piano.
MUSICAL EYE is designed for people with impairments that prevent them from using their hands and arms – people with Spinal Chord Injuries, ALS, Cerebral Palsy, Multiple Sclerosis – or who lack the strength to grasp or lift objects.
This touchless app is based on eye-tracking technology, allowing the playing of a piano without additional custom-hardware requirements.
THE STORY OF MUSICAL EYE
After having had wrist surgery and meeting others in the hospital who had mobility impairments, I started thinking of possible ways to aid the disabled.
Music came to mind as both a mentally and emotionally healing past time, which in conjunction with my technical skills, gave way to "Musical Eye."
An app that empowers those with orthopedic or neuromuscular impairments to play the piano, just with the blink of an eye!
WHAT IS MUSICAL EYE?
MUSICAL EYE is a completely accessible touchless app for the iPhone and iPad, based on eye-tracking technology. The app is designed such that helmets or goggles aren't needed – the only powerful controller is the human eye.
HANDS-FREE TECNOLOGY
MUSICAL EYE tracks your eyes  utilizing a front-facing camera.  With sufficient lighting, you can tap on piano keys with a wink.
A gentle head tilt or slight turning of the face will allow the user to switch between keys.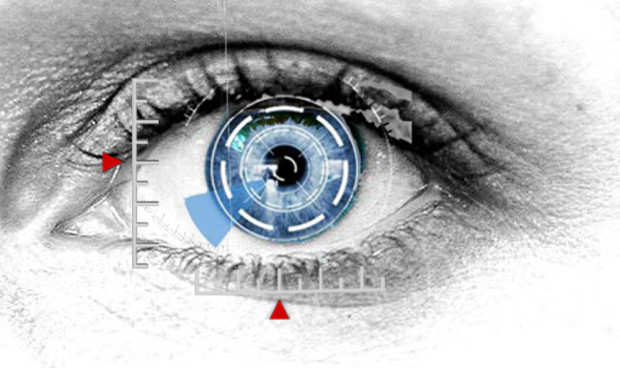 HOW DOES MUSICAL EYE WORK?
MUSICAL EYE works by tracking eye movements which are translated into a pointer that appears on the screen of the iPhone or iPad.
MUSICAL EYE recognizes eye movement and blinks to trigger the selected piano key. The app's wink-detection is translated into a "tap" on the screen, enabling the piano to be played.